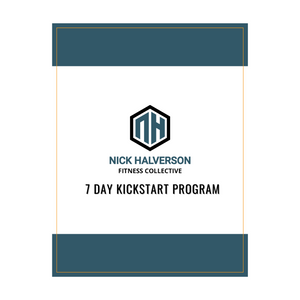 FREE 7 DAY KICKSTART PROGRAM EBOOK
---
How-to guide to your 7 day kickstart program. 
Welcome to your 7 day kickstart! With this you're getting 7 days of workouts including mobility to get your body strong, aligned and moving. Nutrition tips with recipes for breakfast, lunch and dinner to help get you on the right path with food choices and eating. Recovery tips to help you feel fresh, energized and ready to take on your days. And lastly, mindset tips to help motivate, stay disciplined and push towards your goals.
This is aimed to get you on the right path and with the right tools to reach your goals. My hope is that this will give you the kickstart you need to become the best version of yourself. Health and fitness is a journey of consistency, discipline, time, trying new things, getting out of your comfort zone and of course hard work. I won't lie, it is hard and uncomfortable, but that is where progress is made. Are you ready? Let's start!