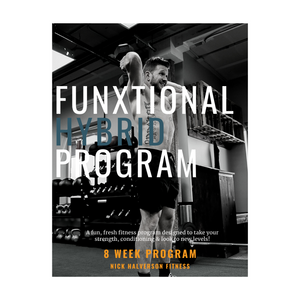 FUNXTIONAL HYBRID PROGRAM EBOOK
---
How-to guide to your 8 week funxtional program. 
Funxtional Hybrid is a fun, fresh fitness program designed to take your strength, conditioning and look to new levels! It's called Funxtional Hybrid because it combines traditional strength training and functional training with elements of cross training and bodybuilding. This is what makes this program so fun, but also challenging. If you're someone who hasn't experienced much cross training, this will challenge you in the best way. Have fun, and don't hold back!
The program consists of 5 workouts per week, each with a specific warm up, strength and hypertrophy sets and a conditioning piece to finish the day. It is a 2 week cycle that you will go through 4 times for a total of 8 weeks. Each cycle will have different rest times and your weights should be increasing each cycle as you get stronger, so KEEP TRACK!