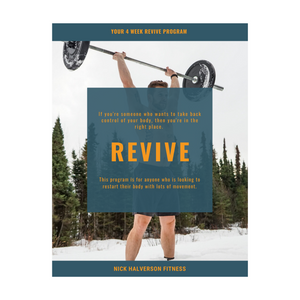 How-to guide to your 4 week revive program. 
Welcome to Revive! If you're someone who wants to take back control of your body, then you're in the right place. Throughout this program you will become stronger, more mobile, will understand tempo and controlled rep concepts, but most importantly, you will feel better! This program is for anyone who is looking to restart your body with lots of movement. You will have three workouts per week for 4 weeks.
Every 2 weeks you will come back to the beginning where there will be slight differences in rest, reps and sets. Each workout starts with a dynamic warmup primarily consisting of Mobility movements. This is for you to be able to focus on getting in tune with your body, moving your body in all different directions and getting the body primed for exercise.
Each week there is a Push, Pull and Full Body Workout. The dynamic warmups will stay the same for each correlating day so as to become familiar with the movements, but also so you can improve your mobility and flexibility.